Nutritious Lunch and Snacks
Your child's nutritional needs are incredibly important to their overall health and development. We take great care in ensuring that we provide only the highest quality choices.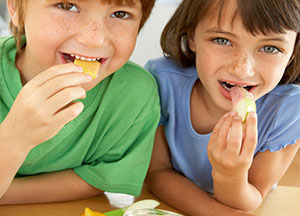 Nutritious Meals
At The Growing Place, we serve tasty, homemade meals that contain little to no processed ingredients. We always encourage making healthy choices at meal times.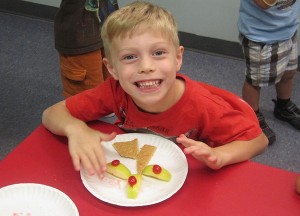 Federal Food Programs
We are pleased to be able to offer Federal food program availability for all our students. Give us a call today to learn more about this benefit.
Healthy Snacks
Snacks are an important part of your child's day at our center. They help keep children feeling alert and satisfied during the morning and afternoon hours. We offer only healthy choices during snack time.
AM SNACK
Banana
Yogurt
Water
LUNCH
Turkey Soft Tacos
Refried Beans
Tropical Fruit
Milk
PM SNACK
Vanilla Wafers
Juice
AM SNACK
Ritz Crackers
Cheese Cubes
Water
LUNCH
Chicken Alfredo
Caesar Salad
Apple Slices
Milk
PM SNACK
Granola Bars
Juice
AM SNACK
Tuna
Butter Crackers
Water
LUNCH
Ham
Sweet Potatoes
Applesauce
Milk
PM SNACK
Animal Crackers
Milk
AM SNACK
Hummus
Snap Peas
Water
LUNCH
Skillet Lasagna
Salad w/ Ranch
Peaches
Milk
PM SNACK
Cheez-It Crackers
Juice
AM SNACK
Applesauce
Graham Crackers
Water
LUNCH
Teriyaki Chicken & Veggies
Rice
Pineapples
Milk
PM SNACK
Oatmeal Cookies
Milk
What do parents say about us
Testimonials

The Growing Place was the best decision I could've made for childcare. My babies went there for 3 years and never once did I have to worry if they were being taken care of or treated right. The teachers treated them like family, any time I had a question or concern it was addressed immediately, and my kids loved it
I have two kids that currently attend and we love it here! The teachers are outstanding and the curriculum is play based. They serve a variety of fresh food for lunch and snack time. Overall great school! We will go there until my kids age out.
My first visit was amazing! The atmosphere does not feel like a regular day care, it feels more like home. Always so clean and well taken care of. The best part is my daughter comes out happy and she learns new things everyday! I LOVE THIS PLACE AND WILL DEFINITELY RECOMMEND TO EVERYONE!!!
Our son, James, has been going to The Growing Place since he was an infant. I cannot believe how fast he is learning! One of the big selling points for us was that there are no TV's, and you never see teachers on their cell phones. Thanks!!
Very friendly staff that takes a genuine interest in my child.
Very nice atmosphere and friendly staff! Great place!
All 3 of my boys have attended here for over five years and they have taken great care of them. I greatly appreciate everything yall do and highly recommend The Growing Place!
WANT TO KNOW MORE ABOUT
OUR PROGRAMS ?
© 2021 The Growing Place Inc., All Rights Reserved.